There's nothing like sitting in a theater with your friends to enjoy a movie together. As you plan your next movie night, you and your group may not know which movie to pick because there are so many options.
One subject that may interest you and your friends is movies about retirement. There are plenty of options with stories that celebrate this phase of life, embrace learning new things as an older adult, and that remind you that you're never too old to begin again. Take a look at these 11 inspiring movies about retirement.
11 Inspiring Movies About Retirement
1. The Best Exotic Marigold Hotel (2011)
This dramatic romance encapsulates what it means to start a new chapter. In The Best Exotic Marigold Hotel, several British retirees move to The Marigold Hotel in India, believing this hotel would be new and luxurious. While the hotel doesn't turn out to be quite what they expected, the hotel and environment grow on the characters as they embrace this new phase of life.
Starring Dames Judi Dench and Maggie Smith, Bill Nighy, and Tom Wilkinson, The Best Exotic Marigold Hotel is a great viewing option. Watch the movie on Amazon Prime Video, Vidu, YouTube, and Google Play Movies.
2. Red (2010)
Bruce Willis leads in Red, an action comedy about retired black-ops agent Frank Moses, who gets his old squad back together to uncover a conspiracy and take down the person behind it. Dame Helen Mirren, Morgan Freeman, and John Malkovich star in this entertaining film. Watch it on YouTube, Apple TV, and Amazon Prime Video.
3. Young@Heart (2007)
This documentary follows a senior choir in Massachusetts. Their choir covers popular songs from Sonic Youth, Coldplay, Jimi Hendrix, and other rock artists. Follow the true story of the choir as they practice for their big performance showcase. Young@Heart is available on Hulu.
4. The Old Man & the Gun (2018)
The Old Man & the Gun is an interesting crime drama about a 70-year-old man who escapes from prison and returns to a life of crime. Successfully pulling off heist after heist, the detective responsible for tracking him down is equally in awe of the criminal's ability and commitment. Starring Robert Redford, Casey Affleck, Sissy Spacek, Danny Glover, and Elizabeth Moss, this movie is sure to entertain a crowd. Watch it on Amazon Prime Video, YouTube, and Apple TV.
5. Birdman (2014)
Michael Keaton plays Riggan Thomson, an older actor past his prime since his days of portraying a superhero on the big screen. Looking to rejuvenate his career, Thomson takes a creative leap of faith on a Broadway production to show that he's truly an artist. You can watch Birdman on Max.
6. Tea With the Dames (2018)
Dames Maggie Smith, Judi Dench, Eileen Atkins, and Joan Plowright get together for tea to discuss life, love, their careers, and the indelible mark they've made in the hearts of many through their craft. This movie is perfect for fans of any of these actresses. Watch Tea With the Dames on Amazon Prime Video, YouTube, and AMC Plus.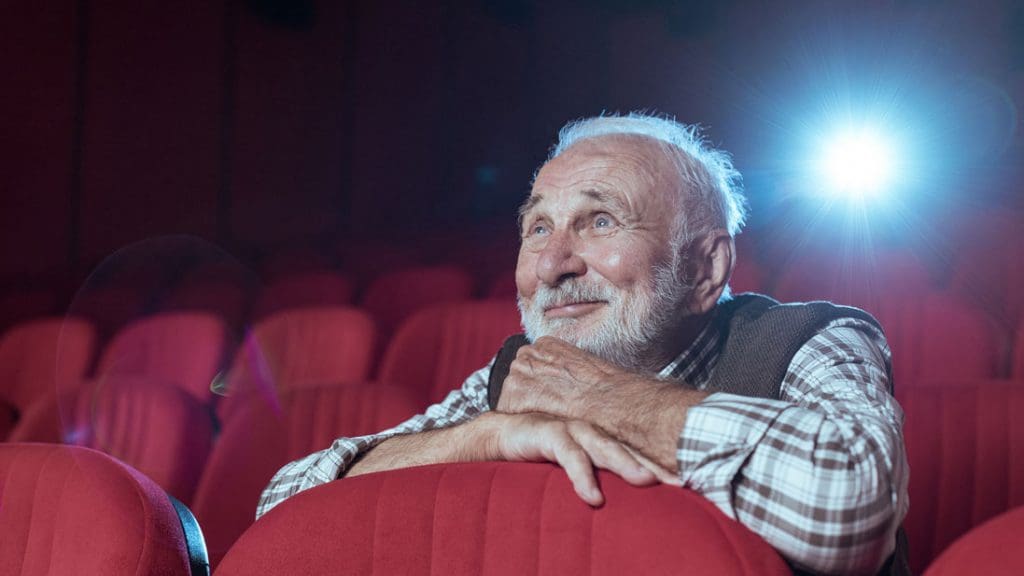 7. Quartet (2012)
Beecham House is a retirement home for artists of all kinds – actresses, musicians, singers, directors. With the retirement home's future in jeopardy, the retirees must band together for the yearly concert performance to help raise enough money for the house to continue.Retired musicians will enjoy this movie about lifelong dedication to a craft and how one's abilities change over time. Dame Maggie Smith, Michael Gambon, Billy Connolly, Tom Courtenay, and Pauline Collins all star in Quartet, which you can watch on YouTube, Hulu, and Amazon Prime Video.
8. The Intern (2015)
Watch Robert De Niro and Anne Hathaway in this dramatic comedy about Ben, an older adult taking an internship role at an online fashion site run by the young company founder, Jules.While De Niro's character may look like a fish out of water at first, he quickly becomes a beloved presence at the office due to his charm, wit, and wisdom. This movie shows the value of an older adult's perspective and that it is possible to adapt and learn something new. The Intern is streaming on Hulu.
9. About Schmidt (2002)
Jack Nicholson plays Warren Schmidt, a recently retired man who is traveling to go to his estranged daughter's wedding. In this indie film, Schmidt discovers self-truths and truths about life on his travels. Watch it on Amazon Prime Video and YouTube.
10. Up (2009)
This animated movie is a whirlwind of travel, fulfilling lifelong dreams, and making new and unlikely connections. Up stars Ed Asner as Carl Fredricksen, a grumpy old man who escapes to South America, a place he's always wanted to go.When he finds a stowaway has made the trip with him, Carl starts to bring down the walls he built around himself as the stowaway refuses to leave his side. This movie is available on Disney+.
11. The Bucket List (2007)
Morgan Freeman and Jack Nicholson play terminally ill men who create their wish lists of things they want to do and see before they "kick the bucket." Bittersweet and touching, The Bucket List embraces the spirit of adventure with friends. Watch The Bucket List on Amazon Prime Video.All you need to do now is tell your friends that you have quite a few new options to choose from on your next movie night – and don't forget to make some popcorn!
Enjoy Movie Night at Canterbury Woods Williamsville
Here at Canterbury Woods, you're certain to find a picture-perfect retirement. Among our amenities include the Canterbury Woods Performing Arts Center, an on-campus venue to celebrate the arts. From concerts, shows, and movies, the Center has something for everyone.
Residents can enjoy movie nights on the big screen – right in their backyard. Give us a call at (716) 427-6928 to learn more about life at our senior living community.