The Canterbury Woods Performing Arts Center opened in August 2023, providing residents of Canterbury Woods Williamsville with an exciting new venue for entertainment of all kinds – concerts, musicals, performances, movies and more. Those who live near the community in Williamsville, NY, will also be able to enjoy this state-of-the-art theater for ticketed events.
"The Performing Arts Center is such an exciting addition to our community. Having a close source of arts and culture will enrich everyone's lives," said Lynda Marino, Marketing Director.
Canterbury Woods Performing Arts Center Design and Programming
The theater's design is perfect for older adults. It can seat 250 people and is accessible for handicapped individuals. The audio system has a listening loop to accommodate people who use hearing aids.
The movie screen measures 12.6 feet high by 21.4 feet wide, making it the perfect size for a luxurious big-screen experience. With all these features, residents and visitors will have much to look forward to in the coming months.
"We're looking forward to finding out what our residents love most," said Marino. "After all, the Performing Arts Center is part of their home!"
The Amherst Symphony Orchestra was the first performance at the Canterbury Woods Performing Arts Center, playing beautiful music for hundreds of people at the grand opening.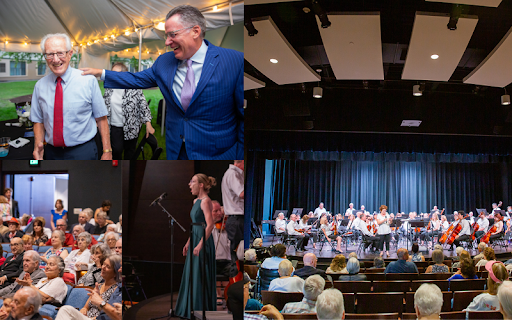 "Congratulations Canterbury Woods, you did it! The symphony was wonderful. I sat in my seat eating my dinner & pinched myself," said Resident Janet W. "I can't believe I live here!"
Performances in September will feature a jazz concert series, and a theater group will take the stage in October.
While there are plenty of live performances to look forward to, the community will also include showing movies and streaming live television, which will definitely appeal to the residents who are loyal sports fans. "We are planning to have movie nights and Buffalo Bills watch parties on the huge screen!" said Marino.
Residents will be able to attend many of the shows free of charge, along with some ticketed events. You can look at the current schedule here.
Enjoy Arts and Culture at Canterbury Woods
Here at Canterbury Woods Williamsville, there's always an abundance of things to do, including events at our new Performing Arts Center. Give us a call to learn more about life at our senior living community.